Aufguss WM 2021 in Japanese Sauna magazine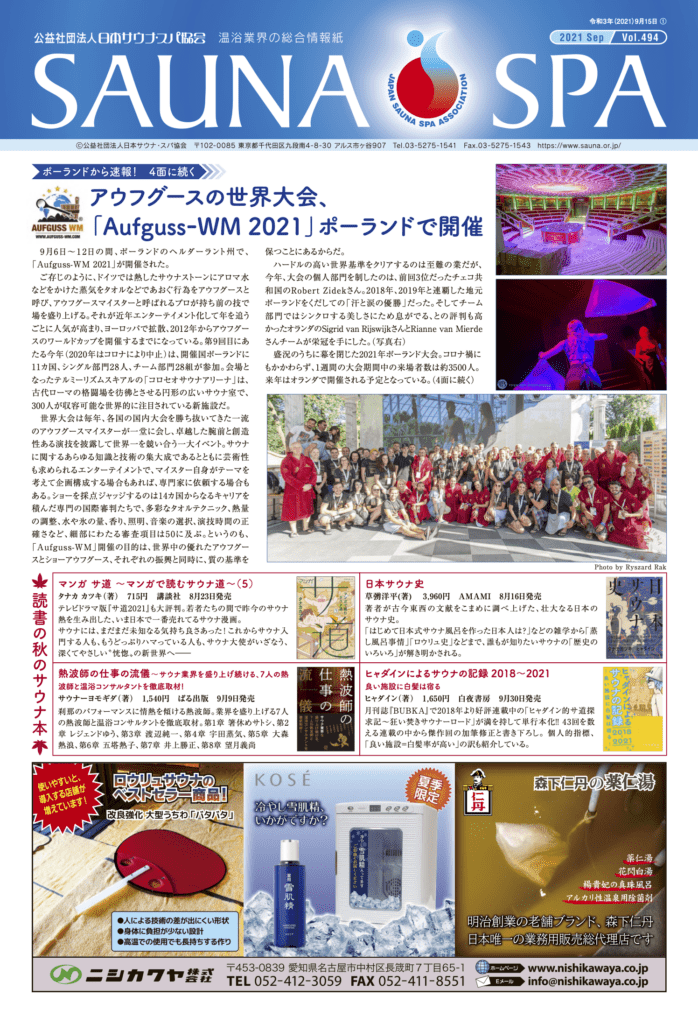 From September 6th to 12th in Gelderland, Poland
"Aufguss-WM 2021" was held.
As you know, in Germany, hot sauna stones and aroma water
With Auf Goose, the act of wiping steam with a towel etc.
Called by a professional called Auf Goose Meister
Liven up the place. It has become entertainment in recent years and keeps going
Increasingly popular and spreading in Europe, Auf Goo since 2012
It is up to the World Cup of Su. In the 9th time
This year (cancelled by Corona in 2020) will be held in Poland
28 people from 11 countries, 28 singles and 28 teams participated. With the venue
The Thermy Rhythm Skial's "Colosseo Sauna Arena"
In a large circular sauna room reminiscent of an ancient Roman battlefield
It is a new facility that is attracting worldwide attention and can accommodate 300 people.
The world championships are top notch that have won the national competitions of each country every year.
Aufguss master come together to create outstanding skills and creativity
A big event where you can compete for the best in the world by showing off your sexual performance. sauna
Artistic as well as the culmination of all knowledge and skills related to
Meister himself has a theme for entertainment that is also required
Sometimes we think about it and organize it, and sometimes we ask an expert.
be. The show will be scored and judged by a career of 14 countries
A variety of towel techniques and energy with professional international referees
Adjustment, amount of water and ice, scent, lighting, music selection, positive performance time
There are 50 detailed examination items such as accuracy. Because
The purpose of holding "Aufguss-WM" is to be an excellent Aufgusu from all over the world.
Su and Shaw Aufguss, at the same time as promoting each, set the standard of quality
Because it is to keep.
It is a difficult task to clear the world standard with high hurdles,
This year, the Czech Republic, who was third last time, won the individual division of the tournament.
Robert Zidek from Japan. Locals who won consecutive championships in 2018 and 2019
It was a "sweat and tear victory" over Poland. And the team
The department has a high reputation for sighing at the synchronized beauty.
Sigrid van Rijswijk and Rianne van Mierde from the Netherlands
The team got the crown. (Right photo)
The 2021 Poland tournament ended with great success. Corona
Despite this, the number of visitors during the one-week tournament was about 3,500.
It will be held in the Netherlands next year. (Continued on page 4)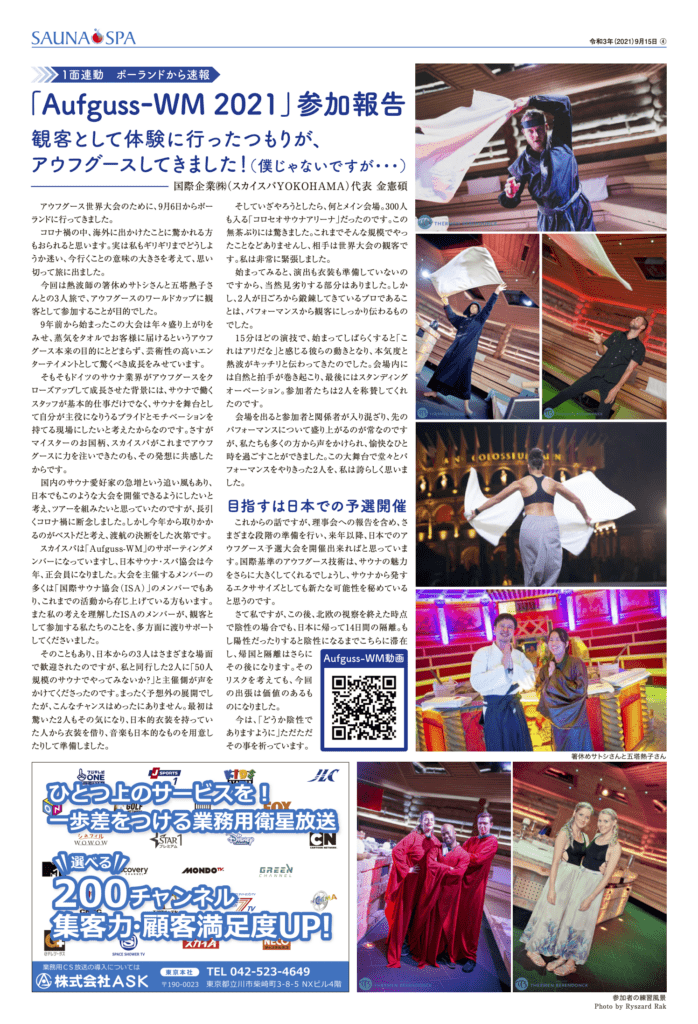 Po from September 6th for the Auf Goose World Championships
I went to the land.
Those who are surprised to have gone abroad during the corona disaster
I think there are also. Actually, what should I do to the last minute?
I'm wondering, thinking about the meaning of going now, thinking
I cut it and went on a trip.
This time, Satoshi-san and Atsuko Goto, a heat wave master's chopstick rest
Watch the Auf Goose World Cup on a three-person trip
The purpose was to participate as a guest.
This tournament, which started 9 years ago, is getting more exciting year by year
Auf who delivers steam to customers with towels
Not only the original purpose of Goose, but also a highly artistic en
It is showing amazing growth as a entertainment.
In the first place, the German sauna industry squeezed Auf Goose
Working in a sauna in the background of rose-up and growth
The staff is not only basic work, but also set in the sauna
Pride and motivation that you can play a leading role
This is because I wanted to make it a place where I could have it. As expected
Meister's national pattern, Sky Spa has been Auf so far
I sympathized with the idea that I focused on goose.
Because.
There was also a tailwind of a rapid increase in domestic sauna lovers,
I want to be able to hold such a tournament in Japan as well
I thought about it and wanted to organize a tour, but it was a long time
I gave up on Corona. But starting this year
I decided to travel because I thought it was the best.
Sky Spa is a supporting member of "Aufguss-WM"
It has become a member, and the Japan Sauna and Spa Association is now
I became a regular member in the year. Of the members who host the tournament
Many are also members of the International Sauna Association (ISA)
Some people are familiar with their activities so far.
Also, the members of ISA who understood my thoughts with the audience
Supporting us in many ways
Thank you.
Because of that, the three people from Japan have various scenes.
I was welcomed by, but the two people who accompanied me said, "50 people.
Why don't you try it in a large sauna? The organizer said
He called me. It was a completely unexpected development
However, such an opportunity is rare. Initially
The two surprised people also became interested in it and had Japanese costumes.
Borrow costumes from other people and prepare Japanese music
I prepared it.
And when I tried to do it, what a main venue. 300 people
It was a "Colosseo Sauna Arena" that also accommodates. this
I was surprised at the unreasonableness. Until now, do it on such a scale
I've never done it, and my opponent is a spectator at the world championships.
vinegar. I was very nervous.
When it started, I didn't prepare any production or costumes
So, of course, there were some parts that were inferior. deer
However, the two are professionals who have been training on a daily basis.
Is something that is firmly transmitted from the performance to the audience
was.
It took about 15 minutes to perform, and after a while, "this
It 's their movement that makes me feel that it 's an ant.
The heat wave was transmitted tightly. In the venue
Applause naturally occurs, and finally standing
Ovation. Participants praise the two
It was.
When leaving the venue, participants and related parties were mixed, and the destination
It 's always exciting about performance.
However, we are also a pleasant person who has been called out by many people.
I was able to spend time. Dignifiedly on this big stage
I'm proud of the two who have done their performance
bottom.
The aim is to hold a qualifying round in Japan
From now on, including the report to the board of directors
We will prepare for various stages, and from next year onward, we will be in Japan.
I wish I could hold the Uhu Goose Qualifying Tournament.
vinegar. International standard Auf Goose technology is the appeal of saunas
Will make it even bigger and emit from the sauna
It has new possibilities as an exercise
I think.
Well, I am, after this, when I finished the inspection of Northern Europe
Even if the result is negative, he returned to Japan and was quarantined for 14 days. and
If it is positive, stay here until it becomes negative
And return home and quarantine further
After that. That
Even considering the risk, this time
Business trips are worth it
It became.
Now, "Please be negative
I hope there is. "
I pray for that.
Translated with google