The Swedish sauna academy has talked to some hotels in Haparanda , Torneå and Kukkolaforsen Tourism & Conference Ltd which promised to prioritize guests who will participate in the Sauna Congress 2018.
Below you will see a small presentation of the hotels, and link to them.
If you have any questions, just email to info@bastuakademien.se
The 117-year-old hotel is one of the most famous turn-of-the-century hotels. Haparanda Stadshotell was the meeting place of its time. When Russia was on the other side of the border, barons and leaders of east and west used to meet in the finest environment: Haparanda Stadshotell.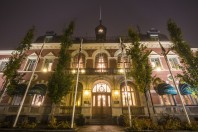 An incredible crowd of characters, mixed with the million-expenditure taking place in town were all gathered at our hotel during the 4 years of the World War I. While blood was flowing all over the battlefields in Europe, the champagne and caviar and selected wines were poured at the Hotel's non-stop feast. Revolutionaries, spies, sawmill barons and brothel madams, as well as counts and nobility, have all left their mark on hotel's history.
The capacity of the hotel is 91 rooms/180 beds. In total, 500 restaurant seats in several dining rooms with different characters offer tasty regional delicacies. Conference facilities for 100 people and for up to 370 people within 10 minutes transfer. Centrally located and only 10 minutes walking distance from the border of Sweden and Finland.
Welcome to make your reservation to XVII International Sauna Congress 2018
Telephone:    +46 (0)922-614 90
Email:              info@haparandastadshotell.se
Internet:          http://www.haparandastadshotell.se
Price:
Until 07 April 2018: Early bird special rate
SEK 1 170:- /night/single room
SEK 1 370:- /night/double room
Breakfast buffet, wi-fi, sauna, service and local taxes are included.
From 08 April 2018: Rack rate
Reservation code:
Please mention the reservation code  "Sauna Congress" when making the reservation.
Haparanda Stadshotell
Torget 7
SE-95331 Haparanda
Sweden
Link to the booking.
https://www.haparandastadshotell.se/?lang=en
The cozy and newly renovated Park Hotel Tornio on Tornio-river welcomes You to enjoy the borderline of Finland and Sweden!
We have single- an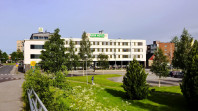 d double rooms, suites and familyrooms.
We also have one room with disability access.
Total room amount is 98 and all the rooms are non-smoking.
We have 4 restaurants, meeting rooms of different sizes ( Auditorium for 200 pers.), cozy sauna department with swimming pool and playroom for the children.
There is free WiFi available in a hotel. Parking behind and opposite the hotel, the parking fee is 5€/night.
Reception is open Mon-Fri at 05:00-24:00 and on Sat-Sun at 06:00-24:00. Please inform us if your arrival time is after 24:00.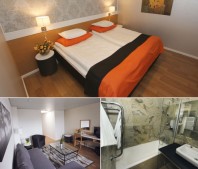 Tornio and its twin city Haparanda have interesting history, culture and sights to experience.
Within walking distance you will find golf course, IKEA department store, Rajalla på Gränsen- shopping centre and Dudesons Activity Park!
Link to the booking.
http://www.phtornio.fi/en/
Kukkolaforsen Tourism & Conference Ltd
The family business Kukkolaforsen Tourism & Conference Ltd. is run by the Spolander family. We have been active, in various ways, in the area for over 5 generations. Through lots of hard work we are constantly improving our specialties: gourmet fare, saunas ad conferences. Not long ago we had a shift in generations within the business and it is now their goal to continue developing and running Kukkolaforsen Tourism & Conference. We will continue to do everything we can to satisfy our customers and offer the most personalized service possible.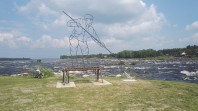 Kukkolaforsen Tourism & Conference Ltd. is a conference, experience and knowledge center in the Torne Valley. The spirit of the region is presented by the rustic accommodation, the various sauna experiences, and the rewarding fishing opportunities.
    Fully booked